Sharon Osbourne, British-American TV personality Unveils Ozzy the Commonwealth Games Bull at New Street Station. As the Birmingham Festival 2023 is set to take place 28th July to 6th August 2023.
He's Back! Ozzy the mechanical bull, created for the Birmingham 2022 Commonwealth Games. Ozzy has been unveiled in his new home at New Street Station Wednesday, 26th July. Named after Black Sabbath frontman Ozzy Osbourne following a public vote last month. He was unveiled this morning by Sharon Osbourne in front of hundreds of well-wishers and a national TV audience this morning. Ozzy's arrival to the city was met with loud applause and cheers.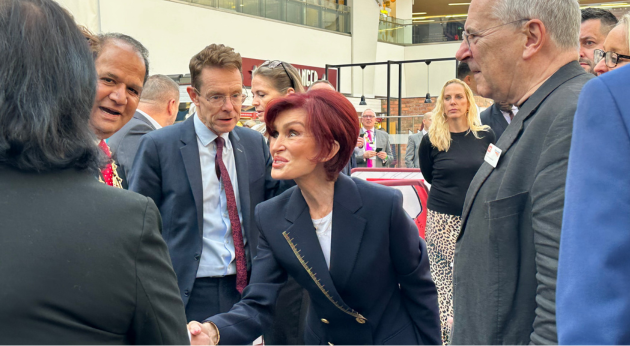 Ozzy the (33ft) 10m sculpture, previously known as Raging Bull, was due to be dismantled at the end of the Games, but won a reprieve after a public outcry. Since the Commonwealth Games he has undergone major redesign by his creators, special effects company Artem, to make him suitable for permanent indoor display. Ozzy can now be seen and selfied by thousands of commuters and visitors to Birmingham every day.
The Central BID patrol team supported the unveiling by assisting the visit of Sharon Osbourne and Ozzy's family. Speaking after the unveiling event, Sharon Osbourne said: "When we were here for the Games in 2022 it was amazing to see what has happened to my home and how it continues to grow and be recognised as the greatest city in the UK." going on to say "Look at the history of strong, hard workers. The city works with what it's got – the same as Ozzy. Ozzy is so overwhelmed by the Bull, something that will be seen by generations to come – something that will carry his name. It's just too emotional!"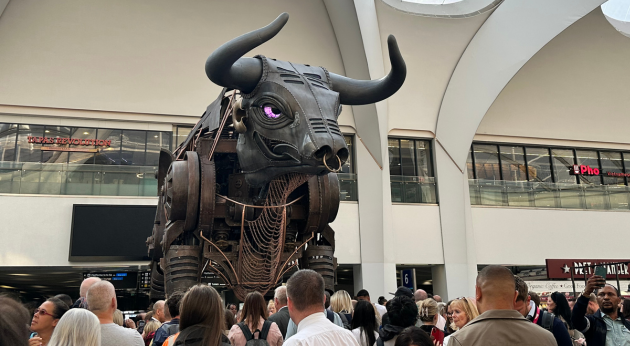 Shannon went on to say "I'm so disappointed that he couldn't be here today but he'll be back. Thanks so much for this dedication, you should all be so proud of your city, it's a great city." Ending her emotional speech with "I cannot thank you enough. Let's say it, Birmingham Forever!"
Following the unveiling of Ozzy, Birmingham Festival 2023 will be taking place in Centenary Square 28th July to 6th August 2023. The official festival of the Birmingham Commonwealth Games 2022. Experience Birmingham's energy and diversity with a blend of live music, dance, fun activities, and big screen entertainment. Click here to find out more: https://www.birminghamfestival23.co.uk/